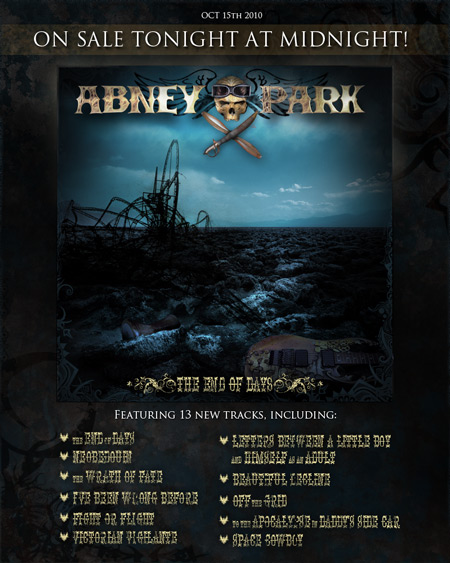 Abney Park's new album,


The End Of Days


goes on sale October 15th!
Featuring 13 new tracks, including:
The
End

Of

Days
Neobedouin


The

Wrath

Of

Fate
I've Been Wrong Before
Fight

Or

Flight
Victorian Vigilante
Letters Between

a

Little Boy
&
Himself

As An

Adult
Beautiful Decline
Off

The

Grid


To The

Apocalypse

In

Daddies Sidecar
Space Cowboy

Featuring the talented performances of:


Captain Robert
Songs, Singing, Bazouki, Harmonica, Accordion, Darbuka

Nathaniel Johnstone
Violin, Guitar, Banjo, Mandolin
Kristina Erickson
Keyboards, Piano
Daniel C.
Bass, Acoustic Guitar
Jody Ellen
Amazing Voice
Richard Lopez

Trombone, Alto Flute
Carey Rayburn
Vintage Muted Trumpet
Erica Mulkey
The album will go on sale at midnight, Friday October 15th (stay up tell midnight on Friday, and that's when they go on sale). The first 200 CD's off the press will be sold numbered & autographed (just like æther shanties). CD's should be instock at that time, and should ship the following Monday.
The album will NOT be available any ware as a digital download for some months after the release.

We worked EXTRA hard to make sure this was available to buy before Christmas, so you can give it as Christmas Presents!